Southern Sky at the
ASTROfarm KIRIPOTIB Namibia
from 2014 May 20th to
June 3rd 2014
In 2014 a dream came true for me. A visit to Namibia with friends to capture the beautiful objects of the southern skies. We were 6 people, Manfred Schwarz, Josef Schwarz, Dr. Franz Gruber with his wife Elfi and me with my wife Francis.
As we are all members of the BAA (Burgenländische Amateur Astronomen) we called it a "BAA Excursion".

Pictures of the participants of the BAA Excursion
| | | | | |
| --- | --- | --- | --- | --- |
| Arrival at Airport Windhoek | | The Astrofotographers from the BAA | | The BAA Gang with Cofounder Schmidt and Chairman Dr. Gruber at right |
| | | | | |
| --- | --- | --- | --- | --- |
| Astrovilla | | Rolf Scheffer, Josef Schwarz and Francis Wechselberger | | Manfred Schwarz, Dr. Franz Gruber and his wife Elfi, Sepperl Schwarz and me (from left to right) |
We have heard before of well known but low quality astro farms in Namibia, so after a longer careful search we found and decided for the relatively new ASTROfarm KIRIPOTIB in Namibia which seemed to be the best compared to the others.
In short: My high expectations were more than completely fulfilled!
My wife and me we got a very comfortable Chalet ,
and the selected rented mounts and optics were all in perfect condition and exactly aligned to the southern pole!
And a very important point also - the food was excellent - no - it was unbelievable good, cooked and presented with love for details!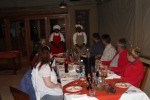 The rented equipment was in excellent condition and as mentioned already the mounts were all aligned perfectly to the south. All this was done by Rolf Scheffer before our arrival on May 20th 2014.
I rented a TS-APO 90/600 (which i have at home with a flattener also),
So i had to carry only my QHY8 camera and the flattener for the TS-Apo, the MGEN guiding set and some notebooks...
| | | | | |
| --- | --- | --- | --- | --- |
| My TS-APO 90/600 | | Vixen Atlux Mount | | The Road to the Stars |
---

KIRIPOTIB from the beginning:

We got a very friendly welcome coffee and an excellent first breakfast.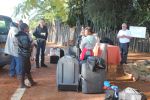 After unpacking
we could not wait to get to the Astrovilla for our equipment
and than moved to the platforms.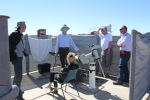 Advice by Rolf Scheffer
at Franz Grubers mount

We got our education
about the mounts, the environment etc.
Here we got the first impression what "german precision" is.
Its called "Rolf Scheffer" who has the equipment on the farm in perfect conditions and takes care if something was forgotten or looks like not working (everything was always o.k. except the "user errors")
So, we all were ready in the first night already to start imaging. Temperatures during night were excellent, approx down to +5° Celsius.

Here the astrophotographers with their optics at the rented mounts.
The Southern Sky without Telescopes
The Milkway and the Magellanic Clouds
the dominant view all night

early evening
9:20 PM


after Midnight

Zodiacal Light and
rising Venus
in the morning


Animation of the Southern Sky
31st May 2014 21:20 to 01:20
High Resolution Animation
Imagesize 1200x800 pixels

Download 22MB

Low Resolution Animation
Imagesize
150x100 pixels
Click into Image

A nice feature on the farm is the so called Astro-Villa. Its a house, 60 m away from the platforms, to rest AND to get drinks and warm food during the night! Warm soup and sandwiches helped us to stand against the wish to sleep...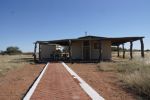 Astrovilla

During the two weeks we all captured a lot of southern sky objects.
These pictures will become available piece by piece
in the next weeks and months. A few are already available
on the homepage of Franz, Manfred and Me.





Images of the
ASTROfarm KIRIPOTIB Namibia

| | | | | |
| --- | --- | --- | --- | --- |
| Reception area | | Breakfast area | | Dining room |
| | | | | |
| --- | --- | --- | --- | --- |
| Saloon | | Pool area | | Guest Appartements |
| | | | | |
| --- | --- | --- | --- | --- |
| Ready for Safary | | Oryx Hunt | | The Oryx in the Solar Oven |

The two Chalets

Aereal View of the Astro Platforms shot the day before our departure.
Copyright Rolf Scheffer !!!
At the upper right corner is the Astrovilla

Orangetree
More Information find on the Homepage of
ASTROfarm KIRIPOTIB

May and September 2005

---
---