---
SOLAR ECLIPSE 2006
Total Solar Eclipse 2006 near Antalya in Turkey.

More or less FINAL VERSION 2006/05/23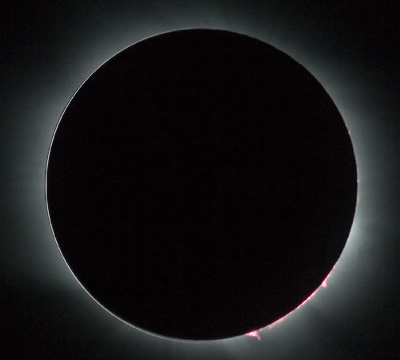 Despite the information that the last 15 years on March 29th the sky was covered with clouds in Antalya we gambled and took the trip with a large group of Austrian astronomers to Turkey. In short - we won! The weather on eclipse day was perfect!
We - (My wife Franziska, Manfred Fischer + Uli Leitner and Sepperl Schwarz + wife Anny and me) spent the week in the Hotel Viva Lindita 12km from Side (63km East from Antalya). The organisation done by ASC Conrad was perfect.

It was my 4th total eclipse, this time direkt at the swimming pool. All eclipse pictures are a cooperation between Manfred Fischer and me. The 3:45 duration needs a lot of hands and computer power to get as much pictures as possible and still to have time for enjoying visually the impressive event.

Authors of images shown on this page:
Uli Leitner (c UL)
Josef Schwarz (c JS)
Gerald Wechselberger (c GW)
______________________________________
Local Views



Hotel Viva Lindita, good service good food and clean (c MF)


The Poolarea
from the balcony
Nikon95 plus Fisheye (c MF)
Its Springtime


(c UL)



The Pool where we experienced/ captured the Eclipse (c MF)


The Pool during Eclipse
Nikon95 plus Fisheye
(c MF)

The Center of Manavgat


(c MF)

The City of
Manavgat

(c MF)

The Dunes shortly
before totality

(c UL)

Manfred Fischer,
myself and the tested
equipment
configuration (c UL)

Participants...
| | | | | |
| --- | --- | --- | --- | --- |
| Some watched the eclipse in the Dunes (c MF) | | Some watched the eclipse in the garden (c MF) | | Our config: SonyVideoCam, Canon 350D+300mm Sigma Apo+2x Conv., ETX90+OM1 + winder, PST+ Canon G2 connected to PC and on an EQ5 (C MF) |

You have to have a system for finding your tools
(c MF)

High Tech Imaging

(c MF)

Relaxed and ready for the Eclipse

(c MF)

Some use the tray for eyepieces....

(c MF)

You only need brilliant ideas

(c MF)



My wife Franziska and Manfreds girlfriend Uli are having fun during the Eclipse (c UL)

Eclipse 2006 Solar images
Version 2006/05/23
all Eclipse Images captured in Cooperation by (c MF + c GW)
Most Images made with Canon 350D plus Sigma 300mm plus 2x Converter

Prominences short after Eclipse 2006
Coronado PST
Canon G2 26mm Eyepiece

Inner Corona at midtotality
Eclipse 2006
Canon 350+

Sigma 300mm+2x Converter. to 600mm


Outer Corona
Eclipse 2006
Canon 350+

Sigma 300mm+2x Converter to 600mm




Prominences at the beginn of totality


Prominences at the end of totality

Outer Corona
Eclipse 2006
Canon 350+

Sigma 300mm+2x Converter to 600mm




Prominences plus Inner Corona at the beginn of totality


Prominences plus Mid-Corona at the end of totality

Outer Corona
Eclipse 2006
Tried to get more details of outer part of Corona



Diamond Ring

at the begin of totality
Sony DV Handycam TRV33
10xzoom plus 2x converter
75 images stacked
UPDATED 2006/05/23



Moon details plus Corona




Diamond Ring

at the end of totality
Sony DV Handycam TRV33
10xzoom plus 2x converter
35 images stacked

UPDATED 2006/05/23




Prominences in detail at the beginning of totality

Eclipse 1999-08-11 Pictures from Bögöte in Hungary (TOTAL)
Eclipse 2001-06-21 Pictures from Lusaka in Zambia (TOTAL)
Eclipse 2003-05-31 Pictures from Mariazell in Austria (PARTIAL)
Eclipse 2005-10-03 Pictures from Watamu in Kenya (PARTIAL
---
---